2nd DeafIT Conference on 14./15. November 2015 in Nürnberg
The successful premiere of the first DeafIT conference last year in Munich was the occasion for us to proceed the second conference in Nürnberg at 14 and 15 November 2015.
The day before the conference started the ViKofo communication forum was held in the Gehörlosenzentrum Nürnberg, which was attended mostly by the non-IT people, and some conference participants were also present. The DeafIT team gave a lecture on two topics "Social media (Twitter, Facebook and Co.) and their security" and "General information about the dangers and bullying in the Internet". The DeafIT team provided the participants with a better awareness of how to deal with the social media and the dangers connected with the Internet. The audience followed the lecture with great interest and enthusiasm so that in the end many open questions had to be answered.
On Saturday we started with the DeafIT conference with many presentations and topics from various areas of the IT sector, which lasted until Sunday. The participants came from Berlin, Hamburg, Freiburg, Munich, Frankfurt and Nürnberg as well as from Vienna. Compared to the last conference, the number of participants had almost doubled this year.
In order for the conference to be understood by all hearing impaired people, VerbaVoice provided a barrier-free, simultaneous translation of the presentations and communication in sign language and text language on the stage. Thanks to Phonak the hearing aid and CI users were able to follow the presentations more easily with a new Roger system.
The topics of the DeafIT conference were very diverse and at the highest level, so that each participant could take a lot of interest in their profession and have a look beyond their own edge.
There were following topics:
"User Experience (UX) als digital wave riding"

by Jo Spelbrink, Digital Creative, Zensations web & communications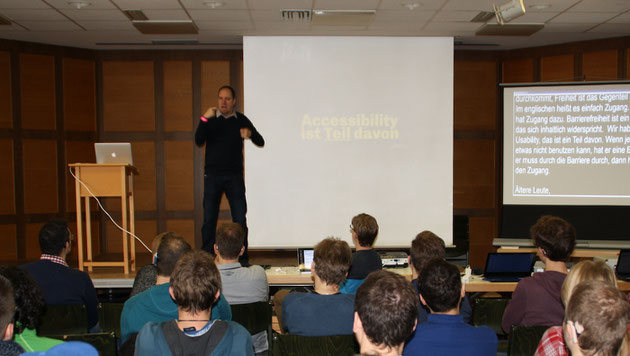 Jo led us into the user experience (UX), which is a crucial key role that can only be developed through a sensible balance of design, technology and business processes, while still focusing on the user. The core statement of Jo's lecture was: "Accessibility is a part of the UX".
"What is Office365 - SharePoint?"
by Vincent Rothländer, Solutions Architect, CGI
Vincent showed us the Office365 - SharePoint Online tool for collaboration with Cloud, which can be expanded with self-developed or purchased add-ins and interactions within the projects, social networks, content management and business applications can be implemented individually with little effort.
"How Fabian develops successful web-based products"
by Fabian Spillner, Senior Software Engineer, gutefrage GmbH
Fabian showed us how a successful development of web-based products emerges and with which steps they can be developed from a productive and technical point of view in order to have a good basis for a successful website later. This is a very good impetus for startup entrepreneurs who want to realize a web-based product.
After the lunch break Ottmar Braschler from Phonak showed us with which Roger systems everyone can achieve better speech comprehension in acoustically difficult situations (for example, everyday life and professional life) with digital radio transmission systems.
Hacking-hour with visual information for DeafIT´ler" with Kilian Knörzer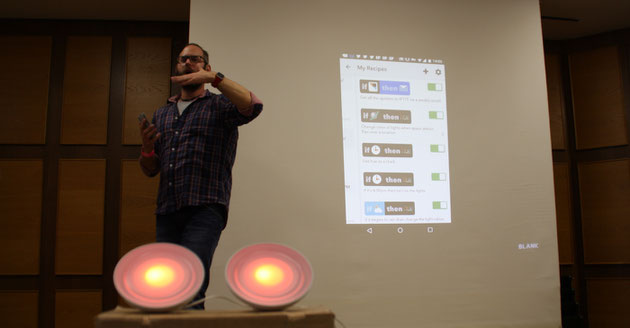 Kilian presented live applications for virtual or augmented reality to the participants. He also showed us how and where these applications can be used. A truly innovative and versatile alternative to classical lighting systems for the hearing impaired people.
"Three Layer Architecture in C# .NET in using with MS SharePoint"

by Florian Katzmayr, Software Developer, IMC FH Krems
Florian gave us a stronger insight into the world of SharePoint. In the three-layer architecture, each layer is an important part of the program that takes a specific task in the application. Different aspects of the application, such as data access, data processing or user interface, are implemented independent of each other.
"Industry 4.0 - New challenges for developer"
by Dr. Irmhild Rogalla, Scientific Director, Institute for practic interdisciplinarity (Institut PI)
Irmhild gives us an important insight into an important business topic that has been a political slogan for two years: "Industry 4.0". The core idea is: devices, systems and products become "smart". For example, you can control your heating at home with the help of an app. "Industry 4.0" is currently the latest challenge for developers.
"Game-Engine Unity3D"
by Faraz Khadivi, Game & Software Developer
Faraz demonstrates some examples of how a game world can be programmed and built. We can see here that the game development with new methods is completely different than the web or software development.
"SiMAX, the sign language avatar"
by Claudia Schweinzer, Interpreter, SignTime GmbH
Claudia introduced us to SiMAX, the sign language avatar with a few short project stages such as character design, software development, databases, animation and translations. It is recognizable that the avatar has a great future and can be used for the deaf people in all areas at low cost.
On Saturday evening a friendly, cozy gathering took place in the restaurant "Bratwurst Röslein" in the old town of Nürnberg.
We in the DeafIT team were very pleased with the successful and lively participation of the conference. Therefore the conference will be continued next year.
We would like to thank all the sponsors and supporters for the great support of the conference and the participants, without them the conference would not be happened.
Text: Tobias Burz
Pictures: DeafIT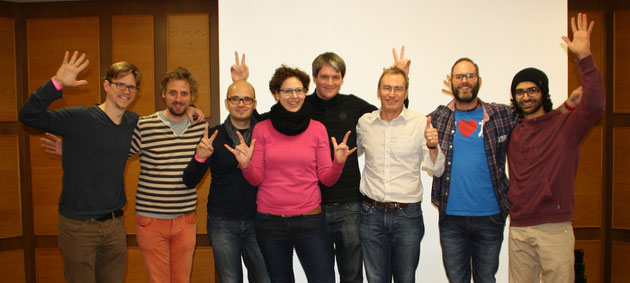 DeafIT Conference 2015 - Sponsored by