DeafIT: The IT Conference for people with hearing disabilities
The DeafIT Conference has the focus on all Deaf, Hard-of-Hearing and CI-User who work or want to work in the IT (Information & Technology) sector. It should create a platform and conference where all hearing impaired people from all over the world can exchange their IT expertise.
Note: The video has subtiles in german language, please activate the function for subtitling.
Keynote speakers of the 5th DeafIT Conference 2018 in Munich
Software Development
"What is Microsoft Flow and what is it?"
Social Media
"Social Media Networking - Opportunities and Benefits for the hearing disabilities people."
Artificial Intelligence (AI)
"HAND TALK - Digital translation with Hugo."
Vincent Rothländer
CEO vinrotlab
Nicole Weißkopf
Senior Community Manager, CHIP Digital
Joaquim Amado Da Silva Júnior
Founder World Deaf Tech, Brazil
News
June 4, 2018: Relaunch of our website
We are happy to show you our new DeafIT website now!
May 25, 2018: Information about the General Data Protection regulation
The new General Data Protection Regulation has come into force since May 25, 2018. We have also adjusted our privacy policy and cookie policy. We inform you according to the legal requirements, about the processing of personal data by our organization as its follow: Privacy Policy & Cookie-Policy.
If you have any questions you can send an E-Mail to us.
May 18, 2018: DeafIT at the 6. Kulturtage der Gehörlosen ("6th Culture days of the Deaf") in Potsdam
More than 100 visitors watched the presentation from Tobias Burz and Manuel Gnerlich about the "Artifical Intelligence (AI) with their chances and risks for the Deaf community during the 6. Kulturtage der Gehörlosen in the Forum Technology. The spectators were very impressed and could get a better picture about the AI.
November 10/11, 2017: That was the 4th DeafIT conference in Frankfurt am Main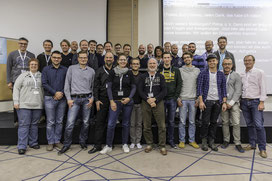 In the "German business capitol" - Frankfurt am Main - the 4th DeafIT Conference was conducted after the three preceding conferences in Munich, Nuremberg and Hamburg.
We may welcome not only the many participants from Germany and Austria but the first time one from Switzerland and the hearing people at the conference of this year.
Here you can continue reading the reportage from Tobias Burz (DeafIT Team) and the speakers presentations!: History  2017
Top DeafIT Sponsors 2017